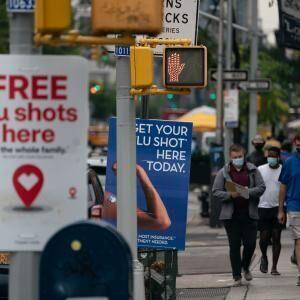 What you need to know to get the flu shot this year | Multimedia
This year, COVID-19 vaccines have been the subject of everything from presidential speeches to hip-hop song parodies. Experts say the COVID-19 vaccination is especially important as the United States heads into the holiday season, when the cold crosses family reunions across the country. But the new coronavirus is not the only respiratory disease that could strike the country this winter.
Winter also marks the peak of influenza season in the northern hemisphere. While the flu is not often on the minds of most Americans, it takes a heavy toll on the country. The disease killed between 12,000 and 52,000 people per year between 2010 and 2020, according to the Centers for Disease Control and Prevention (CDC). Millions more people are infected with the flu and hundreds of thousands must be hospitalized.
In 2021, many public health experts fear the flu season will be particularly tough for the United States. But this year, as restrictions have been lifted across the country, the flu could strike harder. Americans' immune systems may have forgotten how to protect themselves against the flu because so many of us weren't exposed in the last year, explains Dr Katelyn Jetelina, author of Your Local Epidemiologist.
Stacker compiled a list of 10 key facts for this year's flu season from the CDC, the Association for Health Care Journalists, and other science and news sources. Read on to find out when to get the flu shot, who is eligible, and more.
You may also like: Answers to 25 Common Questions About the COVID-19 Vaccine