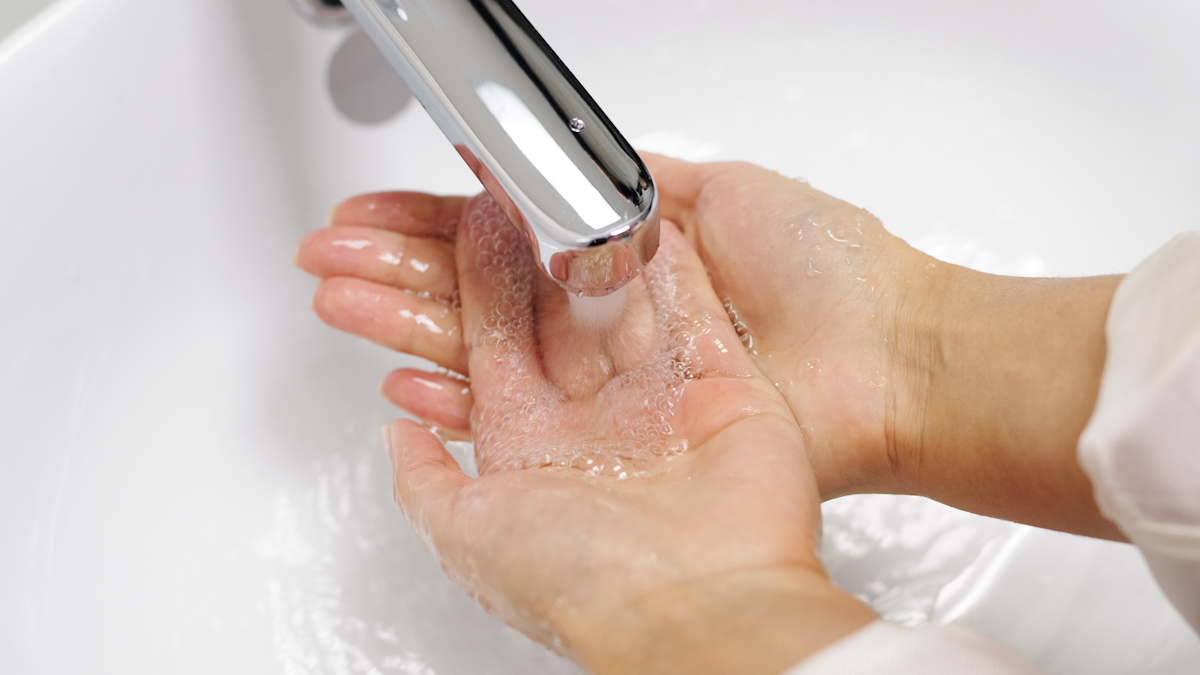 The COVID-19 pandemic has swept the country, infecting tens of millions of people (and counting) in the United States alone. While much remains a mystery about the virus, one piece of advice echoed throughout the crisis: wash your hands, and do it carefully and often. It seems like a simple way to avoid a mysterious illness. But for people without access to clean or running water, the pandemic becomes an even more deadly threat.
In the richest country on the planet, clean water should be a given – a resource that is readily available to virtually everyone. But the groups hardest hit by COVID-19 (including black, Hispanic and Indigenous communities) often lack access to this basic human resource.
In the Navajo Nation, for example, more than a third of residents do not have access to clean running water on a daily basis. Others may only have two or three gallons of water to ration each day (compared to the 88 gallon average used elsewhere in the United States). In Flint, Michigan, the water crisis disproportionately affected people of color and was the disastrous result of systemic injustice and total disregard for the well-being of its residents. Minorities are also much more likely to live near hazardous waste sites than their white counterparts. It's no wonder these same people are more likely to have health problems.
These health concerns, however, are not limited to COVID-19 – they are much more prevalent than they appear at the surface level.
Why the water access problem in the United States extends beyond the COVID-19 pandemic

While this pandemic once again puts the water crisis back in the spotlight, it is a long-standing public health problem that urgently requires solutions.
Lack of running water is one aspect of the problem, but pollution also poses serious health threats. Uranium from old mines seeping into the groundwater of native reserves and industrial chemicals wreaking havoc on waterways are just two of the reasons communities near polluted waters often struggle. reduced IQ scores and lower life expectancy. Likewise, poverty presents barriers to running water, as many people in low-income communities cannot afford to pay their water bills in the first place.
The most glaring aspect of this crisis? It was directly caused by discriminatory policies that left communities of color without the infrastructure necessary to access the most basic resource for human life. (This doesn't mention that low-income communities also collect less tax money to fund much-needed infrastructure upgrades.)
Just consider Apopka, Florida: Following national trends in housing discrimination, the city passed an ordinance separating black and white residents in the 1930s. Over time, the city eliminated housing issues. municipal infrastructure in the predominantly black south of the city, including problems with sewers, stormwater drainage and domestic water pressure that made swimming impossible for some residents. (At the same time, similar complaints from the north side of the city were treated favorably, while the neighborhood itself received preferential financial treatment). These problems culminated in 1981 in Dowdell v. Town of Apopka, in which the district court found ample evidence that the municipality was acting with "discriminatory intent" towards the residents concerned.
While Apopka could have remedied its neglect with equitable access to municipal utilities decades ago, countless other cities with similar histories have yet to do the same. It is time for them to ensure that every resident has satisfactory access to running, clean water.
Making progress towards equitable access to water

While improving infrastructure is critical to solving America's water crisis, that country also needs a fundamental shift in perspective. Today, water is treated as a paid service and not as a human right. Even in places where water can reach homes, businesses will shut down service just because someone hasn't paid a $ 32 bill.
Change at the federal level can take a long time. Passing new legislation and funding large-scale loan programs simply cannot happen overnight. Where to change can to arrive relatively quickly is the municipal sphere. COVID-19 clearly requires urgent action from municipal water providers and local governments to ensure water equity, including continued suspension of residential water cuts, establishment of stations hand washing in at-risk communities and drinking water distribution. At the same time, providers need to develop a plan to help residents manage their account balances and persistent unpaid bills.
The city of Chicago, for example, is partnering with other entities to implement a relief program that achieves similar goals. In addition to helping low-income city residents with reduced rates on water and sewer utilities, its utility bill relief program also offers debt relief to those who need it. can handle low rate invoices for one year. And in addition to shutdown moratoria during the COVID-19 pandemic, Los Angeles has allocated $ 50 million in COVID-19 relief funds to some utility customers to deal with outstanding water bills and electricity. It is also preparing for its Fresh Start program, which relieves utility debt and reassesses bill payment for low-income residents.
Where does the federal government fit in?

That said, the United States still needs long-term solutions. These include replacing inadequate tanks, fixing plumbing, and fixing pollution issues in all communities, not just the wealthy.
Of course, it would be unrealistic to ask utilities to tackle this problem on their own: we also need government-backed financial aid programs so that no one gets water through dangerous pipelines or that her water be cut off simply because she is not making enough money. to cover an invoice.
The United Nations has been adhering to this approach for a decade, but the United States has a dismal record: although some local, state and federal provisions deal with water to access problem, the federal government does not recognize access to safe water as a basic human condition right. The United States has signed or ratified many international treaties implying that water is necessary for well-being, but there is still a lot of work to be done at home. Interestingly, it's also likely that most Americans would agree with this, as access to water is a truly bipartisan issue.
While this change may seem beyond their reach, municipal water providers can still take steps to push their country in the right direction. It often starts with governments and utilities who can collaborate on solutions at the regional level, as regional solutions would be preferable. Subsidies may also exist at the state level in some cases. Organizing a regional team to have conversations about access to water is a good start; providers should also seek to include county commissioners, state elected officials and offices of governors. Creating a role model is key to getting the momentum needed to move this conversation forward.
When water becomes a right instead of a luxury

Systemic racism and discrimination have clearly created and fueled the problem of access to water in the United States, which means change is necessary to overcome it. However, lasting change will only happen when all Americans recognize that water is not a luxury. We accept food stamps as a necessity because almost everyone understands that food is vital for survival. Water is just as important, but it is not spoken of in the same way when it comes to justice and domestic politics. Until Americans stop taking water for granted – and start seeing it as their neighbors' right – there won't be enough outcry to radically rethink who should get clean drinking water at home. House.
Unfortunately, access to water is likely to become an urgent issue for more and more people in the United States as the effects of climate change become more and more felt in the decades to come. Again, low-income minority groups are currently carrying the brunt of our outdated water infrastructure. But rising temperatures, droughts and floods will put the well-being of people at risk. all Americans, unless we act now – municipal water providers included. We will all be better off if we demand environmental justice today rather than wait for the situation to become more dire, making the solution even more costly.
It is high time to start treating water as a human right – and inequitable access to water as a public health crisis.
About the Author: Chris Shaffner is Senior Vice President of Water and Community Facilities at CoBank, a national cooperative bank serving vital industries across rural America by providing loans, leases, financing export and other financial services in all 50 states. Chris oversees the strategic growth and management of CoBank's water infrastructure loans, rural health care investments and rural investment funds.