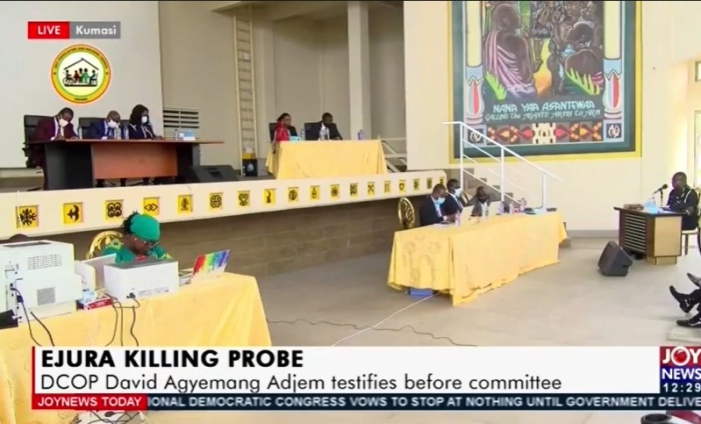 The Ejura Committee should apologize to the Multimedia Group and Erastus Asare Donkor – Kofi Bentil
The IMANI-Africa vice-president attributed the wave of verbal abuse and threats against Luv FM reporter Erastus Asare Donkor to the Justice Koomson Committee investigating the Ejura clash.
Kofi Bentil speaking on JoyNews' News file Saturday said the kind of questions posed by the committee gave the impression that the reporter's report had played a role in orchestrating Ejura's unrest.
"If you take the Committee aspect, I think we have to point out that all of this media harassment has started with the attitude of the Committee members themselves. I was disappointed.
"When after Erastus went out there to help them with the investigation and we have to note that it was Erastus' work that brought all of these things to light, otherwise we will hear all kinds of stories.
"He was attacked, in my opinion, he was subjected to unnecessary scrutiny as if to say defending what you did when indeed he was helping the committee and this caused the committee to lose almost all respect and from there I saw political actors take it on and claim that shooting at soldiers and police doing their job was causing chaos, "he said.
Expressing his disappointment, he insisted that the Committee apologize to The Multimedia Group and Mr. Asare Donkor for ridiculing them in public.
According to Mr. Bentil, the above is to be commended for its bravery efforts in covering the Ejura protest in the midst of a chaotic scene instead of being reprimanded.
His comment comes in response to the chairman of the parliamentary committee on defense and interior, Kennedy Ohene Agyapong, threatened Erastus Asare Donkor, about what he called "stupid testimony before the committee".
The politician was caught on camera during a live broadcast widely broadcast on social media platforms, stating that "if he [Mr Agyapong] if he was president, he would have made sure that Erastus Asare Donkor was mercilessly defeated.
The Speaker of Parliament, Alban Bagbin, on Tuesday referred Mr. Agyapong to the Privileges Committee following his statements.
Meanwhile, the chairman of the committee investigating the clashes with Ejura, Judge Kingsley Koomson, said none of Erastus' testimony looked stupid.
He noted that the Committee is satisfied with the testimony of 22 witnesses, including Erastus Asare Donkor of Luv FM.
"Who decides what is stupid?" Who decides ? As a committee, we are a committee of inquiry and we have not come out to say that anyone's evidence is stupid or irrelevant.