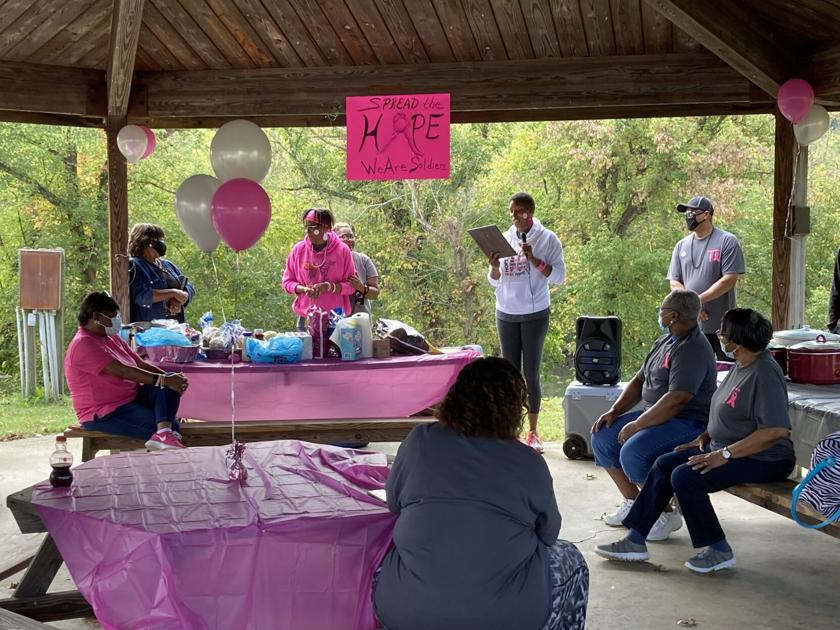 Friends and Family Gather for Faith Walk at English Park | Multimedia
In a year seemingly filled with crises, a resident of Java had her own personal crisis. But with the faith and support of family and friends, she walked away with a smile on her face.
LaShawn Bain found out she had aggressive stage three breast cancer in October 2020.
"It was a battle," Bain said. "But God has seen me through everything."
During her treatment, Bain and her mother, Virginia Barbour, decided to gather their friends and family for a faith walk in English Park. Although Bain lives in Java and her mother is from Nathalie, Bain, a former BGF employee, said she enjoyed walking in English Park for about 12 years before being diagnosed with cancer.
"She started doing these walks and people started supporting me and coming out," Bain said of her mother's involvement in the first faith walk, which was held this spring.
Bain and her mother have now organized the Three Walks of Faith. The second took place at English Park this summer and the third took place last Saturday.
He drew a crowd of a few dozen people to a pavilion in English Park to share stories and fellowship. Many were cancer survivors themselves, or family members or friends of cancer survivors, such as Jennifer White, one of Bain's close friends. Bain and White both had cancer at the same time, and each in turn said he was grateful not to have the experience alone.
"I thank the Lord for the support of the community that comes out of this," Bain said.
Local preachers and cancer survivors took turns speaking at the rally. The event, which lasted from 10 a.m. to 2 p.m., alternated between prayer and personal anecdote. Participants also stopped to light a candle for those who did not survive their battles with cancer.
Then, around 11 a.m., many of those who came started hiking the trails in English Park, while those who stayed under the lodge made lunch for everyone.
"It's for any disease," Bain said of the Faith Walk. "Anyone who fights or goes through anything. "
Now cancer-free after a mastectomy, Bain and her mother plan to continue hosting faith walks in the future.
Bain emphasized the importance of faith in his own battle with cancer.
"We have to fight," she said. "And I insist on this point: you must pray and have faith."
Bain's mother also emphasizes her faith when she talks about her daughter's trip.
"Stay strong. Stay encouraging. Sometimes you have to push them a little bit," she said. "Just be there for them."